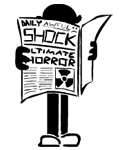 I've been a student at Adelaide University on and off for the last 5 years. During this time, I've been consistently underwhelmed by the quality of imagery, editing and design that has gone into our local student magazine, On Dit. While there have been some exceptions, and the content has occasionally been fresh and interesting, the magazine's presentation has always been a little lacking.
It's election week again at Adelaide, and everyone knows what that means. Walking across the Hughes Plaza, trying to get to a computer room so you can desperately hammer out that last-minute tutorial paper, you're guaranteed to be spear-tackled by no less than 5 campaigners, literally frothing at the mouth in anticipation of getting your sweet, sweet vote.
This year however was a little different. I actually approached one of the campaigners, who seemed quite earnest about what he was promoting, but disappointed with the reaction he was getting. He told me how he was supporting the election of a new set of editors for On Dit, who are campaigning on the admirable platform of cleaning up its presentation and improving its relevance to university life.
They had already purchased the domain for an online syndication of the magazine (OnDit.com.au), and the example copy posted was interesting and visually engaging. I like the consistent layout and colour scheme they're proposing, as well as their hopes of greater engagement with the University's resident artist population.
The campaign slogan isn't too bad either:
You deserve a better student mag. A reckless student mag. A provocative student mag. An utterly irrepressible student mag.
From OnDit.com.au
So with all that said, I've given Connor O'Brien, Myriam Robin, and Mateo Szlapek-Sewillo my vote for On Dit editorship in 2010. Don't disappoint me guys!