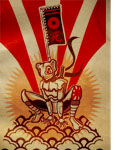 This was an attempt at drawing an original character without reference images. I don't know about 'original', but I managed to keep the referencing purely to looking up the Kanji character for 'death' (which my friend informs me is actually 'dead' – this reflects my knowledge of the Japanese language).
Thanks to Avarine for mentioning its similarity to a propaganda poster and giving me inspiration to finish the piece.
Adobe Flash, Adobe Illustrator and Adobe Photoshop. Free paper texture taken from Zen Textures. The original is A2 sized, so if you'd like a print, shoot me an email and I'll see what I can do.
edit 7/10/09

Larger, slightly modified version viewable through my portfolio.