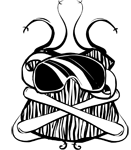 I'm really stoked right now because I just found out that my design has been picked by TJ Schiller to be featured on his next season's CoreUPT pro model.
A big thanks to TJ and his crew for running the contest, and congratulations to the runners-up, Daichi Ishikawa and Joseph Toney, looks like you guys'll get some nice gear!
The announcement is on TJ's website, and my winnning design is below. If you click, it'll take you to a higher resolution copy in my portfolio.
Winning design